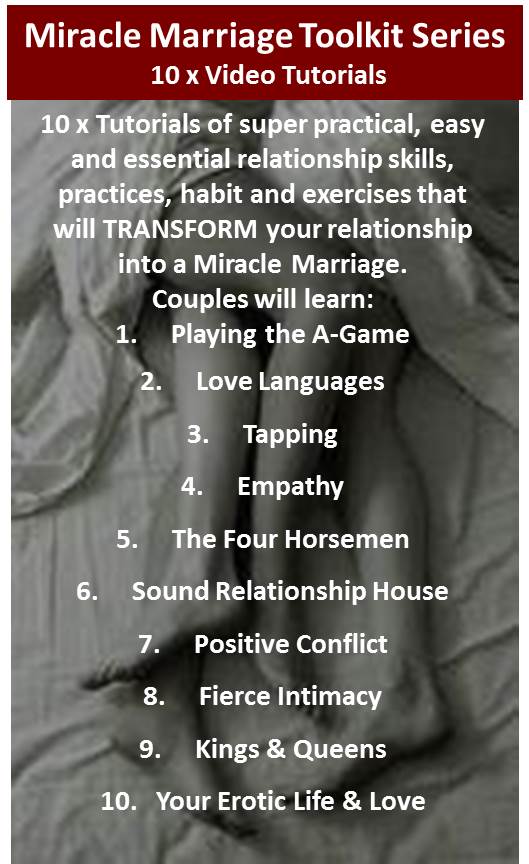 The Miracle Marriage Toolkit Series is INCLUDED as part of the full course, Creating a Miracle Marriage (rr$349)
However - it also can be purchased as a standalone resource for only $149)
+
BONUS VIDEO - Prayer + Ho'oponopono (from How Do You Feel?)






PRACTICAL - Miracle Marriage Toolkit
"A Miracle Marriage is committed to continual growth, relationship evolution, purposeful living, full expression and deep joy. A Miracle Marriage is an exquisite invitation to be conscious in love."
A Miracle Marriage asks:
"What are you feeling? What do you need? "What do you want? How can I support you to achieve that?"

Presented by Sarah Tolmie, Gottman trained marriage therapist, love & relationship coach, and holistic celebrant, Creating a Miracle Marriage online course enables  couples to bypass the time, expense and logistical challenges of attending relationship coaching or marriage therapy.
 The course offers a unique and comprehensive relationship coaching  that goes both deep and practical with all video tutorials delivered personally by Sarah.
These teachings are based on Sarah's lived, loved and proven Miracle Marriage method, outlined in her eBook, Miracle Marriage Manifesto, and underpinned by her training in Gottman Institute Couples Therapy.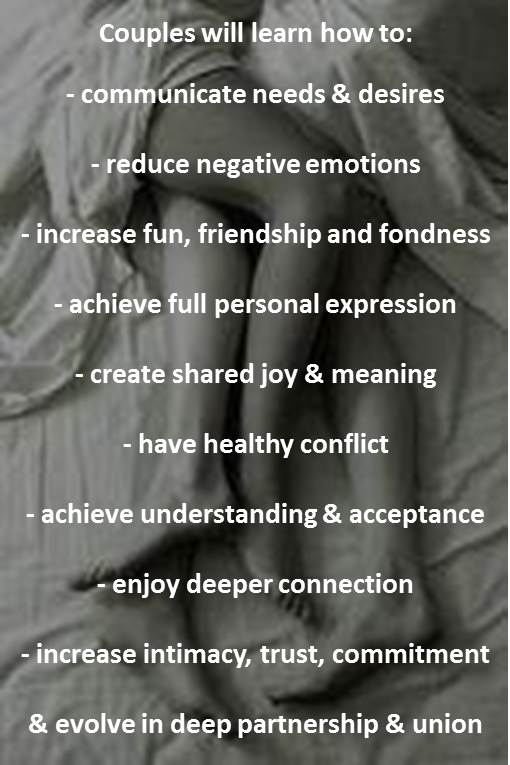 Life & Love Products - Courses, Coaching and Bundles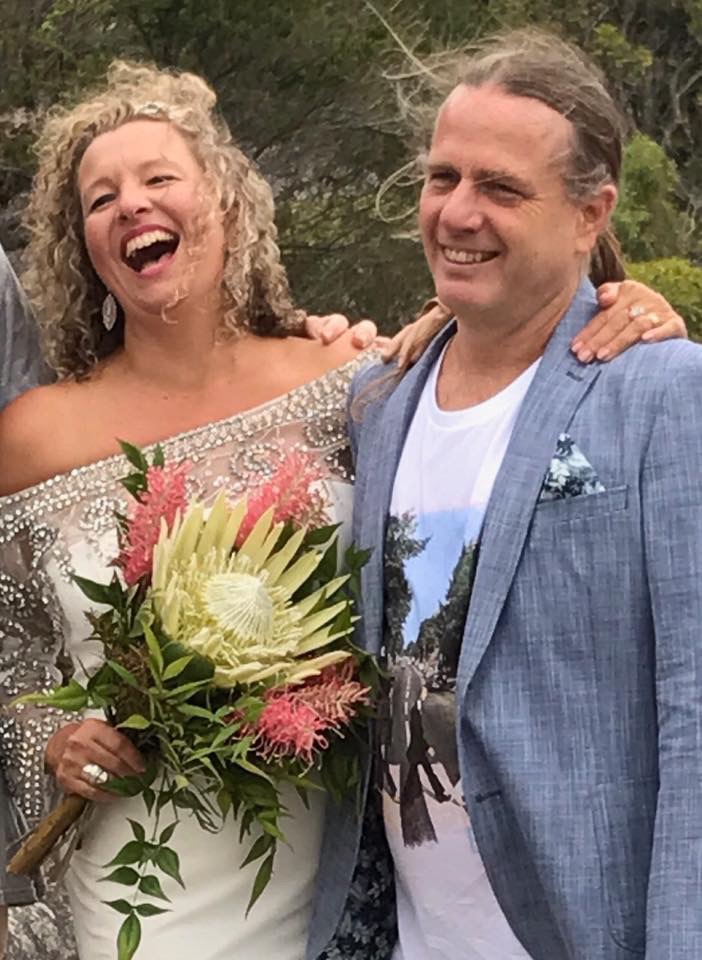 Sarah Tolmie's Life & Love
She has been married to the love of her life, Andrew for 25 years and has two gorgeous man-children, Finn (23) and Rory (20). Sarah and Andrew renew their marriage vows every 7years.
She is also in a passionate relationship with her 'fur-child' Harvey-dog.
Sarah is a highly skilled and fully trained Marriage Therapist.
Her 'Miracle Marriage' principles and teachings offer a contemporary, real and sustainable approach for couples to repair conflict and expand and enrich their experience of life, love and intimacy in committed relationships and marriage.
 With clinical training in the Gottman Couple Therapy Method – a scientific and evidenced based framework with more than 40years of proven research and success - Sarah's approach offers a solid, tangible and proven pathway for couples to create, sustain and evolve a lifetime of love.
Fully trained Marital Therapist, completing Levels 1 & 2 and Trauma & Infidelity in Gottman Method Couples Therapy.
Additional trainings with Esther Perel & Terry Real
Bachelor Arts (Social Anthropology, Psychology & Linguistics)
Masters in Communication Management
Diploma in Marriage & Funeral Celebrancy
Pastoral Care (College of Clinical Pastoral Education)
NLP Master Practitioner & Coach; Master Specialist Coaching & Counseling (ABNLP)
Certified Master Practitioner of Hypnosis (ABH)
Certified Master Practitioner of Time Line Therapy®
Laughter Yoga Leader
Primary Ethics Volunteer Teacher (Primary Ethics NSW
Check your inbox to confirm your subscription