When you purchase the How do you feel? course & coaching call bundle, it offers a Zoom coaching call with Sarah Tolmie. (Save $50)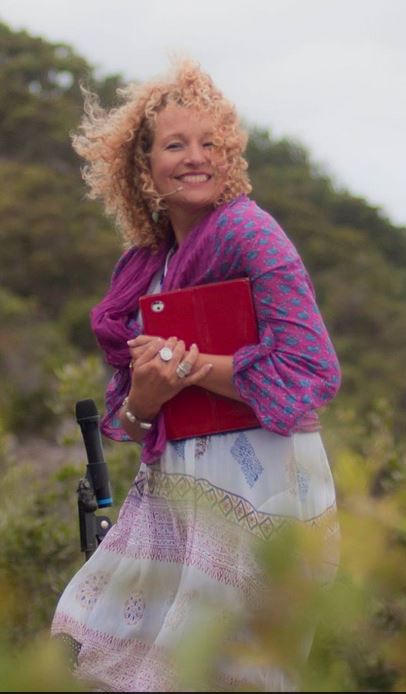 Sarah's Life & Love
Sarah brings magic, miracles and meaning to all things Life & Love as a holistic celebrant, marriage therapist, life & love and relationship coach, end-of-life consultant and bespoke funeral director.
Before her Masters in Communication Management and more than a decade long career in corporate communications, Sarah's first academic degree was in Social Anthropology and Psychology, igniting a passion that never left her for the human condition, social wellness & relationships.
Sarah returned to her passion following the call of ceremony & ritual as a celebrant, and being in service to individuals, couples and families helping them to navigate the emotional, practical, relational and spiritual challenges of life and love's journey as a coach, therapist and consultant.
Sarah now lives beachside on the NSW Central Coast and takes the 'slow and scenic route' towards a life full of love and laughter. She describes her adventures in Life & Love as close encounters with life and death, love and loss, joy and transformation.
Sarah credits her wellbeing to meditation, prayer and daily homage to her beach, as well as her life-sustaining friendships with amazing women and her hero mentor, her wise and beautiful mum. She proudly declares herself an 'undomestic goddess'.
Along the way Sarah discovered community choirs, local activism, surf lifesaving, ocean swimming, hiking and has an on again/off again unfaithful relationship with yoga, as well as also dabbling in laughter yoga, bad singing and 'binge meditating' – preferably in a hammock - or at her favourite rock at a secret sacred location!
Sarah is always looking for any excuse to laugh, dance and sing! And drink Champagne !
She has been married to the love of her life, Andrew for 24 years (and re-marries him every 7years, recently celebrating their 4th wedding) and has two gorgeous, man-sized sons, Finn (21) and Rory (18). She is also in a passionate relationship with her 'fur-child' Harvey-dog.


Use this Image with Text block to balance out your text content with a complementary visual to strengthen messaging and help your students connect with your product, course, or coaching. You can introduce yourself with a profile picture and author bio, showcase a student testimonial with their smiling face, or highlight an experience with a screenshot.
Frequently Asked Questions
Can I get a refund if I'm unhappy with my purchase?
If you are unsatisfied with your bundle, reach out to us to see if your purchase is eligible for a refund.
My bundle includes coaching. How do I schedule my appointment?
Upon purchasing a bundle that includes coaching, Sarah will contact you to book a time for your appointment.
Bundle Contents
Showcase courses and coaching in your Bundle.